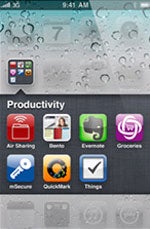 The most useful function of the iOS 4 which is released today is Smart Folders :)
As simple as it sounds, this feature was missing on the iPhone. The folders feature in iOS 4 will help you declutter your home screen, letting you compile under a single location up to 12 applications.
To access folders, enter customize mode (tap on an icon until all icons start jiggling), slide any icon on to another and a new folder is created. You can rename the folder to your liking, but iOS 4 will also suggest a folder name if applications grouped in a folder belong to the same category (like games, utilities, travel).